Tag Archives: Barton Fink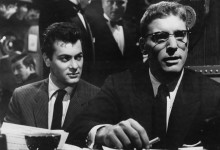 To make a masterpiece about greed, media manipulation and McCarthyism, you hire a director whose background is in comedy.
This short video-essay details the recurring thematic concerns explored by the Coen brothers over the last 30 years. Intercutting all 16 of their films, the characters appear to talk to one another across the stories.
The Coen Brothers won the Palme d'Or at the 1991 Cannes Film Festival with this sardonic look at Hollywood. But is that what it is really about?