Tag Archives: Breakfast at Tiffany's
Is this film about amnesia or is it about déjà vu? Either way, Charlie Kaufman's script which focuses on memory is a true original.
"Here's looking at you, kid." Casablanca has more quotable lines than any other movie, but it's the visual design that gives the film its thematic resonance.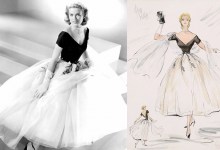 Edith Head was one of cinema's greatest costume designers. Here we discuss her work and explore the relationship between fashion and film.