Tag Archives: Sweet Smell of Success
Whether it be ethically, legally, politically, geographically or even chemically, Michael Mann's multi-Oscar nominated picture is about crossing the line.
Released to mixed reviews in 1969, Midnight Cowboy is a landmark film that examines the then toxic topics of male identity, intimacy, sexuality and trauma.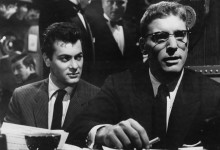 To make a masterpiece about greed, media manipulation and McCarthyism, you hire a director whose background is in comedy.