Tag Archives: Wong Kar-Wai
Reviled and banned upon its release, then seemingly destroyed and lost forever, Jean Renoir's The Rules of the Game stands today as a victory for liberalism.
Once considered avant-garde, slow-motion is now the mainstay of every action film. Here are some of the best and most innovative uses of the technique.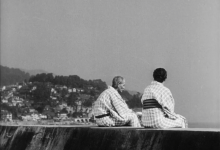 On the surface Yasujiro Ozu's examination of family life in post-war Japan may sound simple, but what he delivered is one of cinema's supreme achievements.